Helping Protect First Responders from Cancer
Helping Protect First Responders from Cancer
Almost everyone has a personal connection to cancer-- and first responders know that more than anyone else.

In 2012, 14 million new cancer cases were diagnosed and the number of cancer cases are expected to rise by about 70% over the next two decades, according to the World Health Organization.

Certain occupations, such as firefighting, can increase the likelihood of getting cancer even more. A study from National Institute for Occupational Safety and Health (NIOSH), a division of the Centers for Disease Control and Prevention, found that firefighters develop cancer at significantly higher rates compared to the general population.

Since 2010 Honeywell has sponsored regional firefighter training conducted by FireSmoke Coalition , which has trained more than 16,000 fire departments around the world on the dangers of toxic smoke.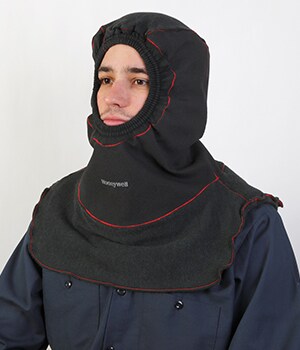 "Today, structural fires are far more hazardous because homes and buildings are filled with rigid plastic items (think filing cabinets, computers, flooring and much more) that release hydrogen cyanide (HCN) when burned," said Shawn Longerich, executive director of the FireSmoke Coalition.
Hydrogen cyanide (HCN) is an extremely toxic, reactive chemical that is both an inhalation and skin absorptive hazard. The fire service community is becoming more aware of the dangers of these carcinogens, but there is a continuous need to get the word out, Longerich said. In one study, nine firefighters in Florida developed thyroid cancer from likely exposure to toxic soot in the vulnerable head and neck area. In collaboration with fire chiefs and firefighters from top fire departments in North America, Honeywell developed a particulate-resisting hood that better protects the throat, face and neck. Thermal imaging photographs document the improved protection provided by the hood.

In addition, Honeywell / Gore have a program that helps local municipal governments secure grants to purchase personal protective equipment, including turnout gear, hoods, boots and accessories for firefighters. 


Copyright © 2022 Honeywell International Inc.