How Mustard Seeds Are Now Fueling Jets
How Mustard Seeds Are Now Fueling Jets
This innovative ingredient has the potential to reduce greenhouse gas emissions
Flying planes powered by plants is becoming a reality. When Qantas flight QF96 recently flew from Los Angeles to Melbourne, Australia, it wasn't just any trans-Pacific flight – it was the first to use a new fuel made from Carinata seeds, a non-edible mustard seed.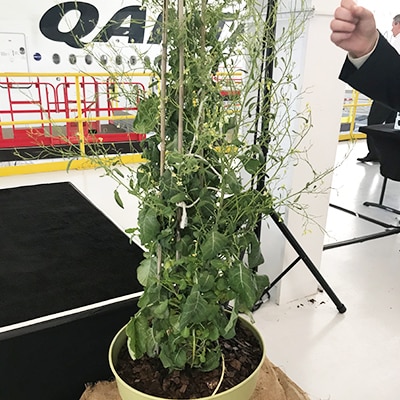 The 15-hour 13,000-km journey marked the debut of the new Honeywell UOP Green Jet Fuel. It can replace as much as half of the petroleum jet fuel used in flight, without any changes to the aircraft technology, and still meet standards established by the ASTM – resulting in a potential 65 to 85 percent reduction in greenhouse gas emissions when compared to petroleum jet fuel.
The seed that makes this possible has a lot in common with other oilseed crops, such as canola, soybean and corn. Engineered by
Agrisoma, Carinata oil is extracted when the seed is crushed. However, instead of human food consumption, the oil produced is intended for industrial use in the production of bio and jet fuels.
When pressed, the seeds yield half their weight in oils that are then refined into jet fuel by AltAir, at the world's first commercial-scale renewable jet fuel plant in Paramount, California.
With the first commercial Carinata seed crop expected in 2020, this new commercial aviation biofuel is poised to help travelers reach new and uncharted heights.
Copyright © 2022 Honeywell International Inc.