How they Break the Code
Three women from Black Girls CODE give their best advice to the next generation
Technology is always looking at the next generation and that is definitely the case with Black Girls CODE.

The non-profit organization focuses on providing technology education for African-American girls. Last month, Black Girls CODE held a Women of Color in STEM panel girls ages 7 to 17-years-old interested in careers in science, technology, engineer and mathematics (STEM) at our Software Center in Atlanta.

We caught up with three of the panelists.

Sydney Smith, Senior Software Developer at CNN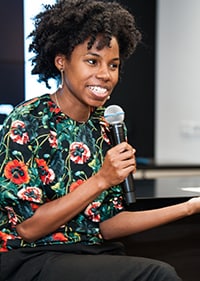 Coding for: Three years
How did you get interested in coding?
I realized my love for technology when I was a little girl, as I built my own websites on AOL and Geocities and taught myself HTML and CSS. My inspiration to transition from journalism into the world of tech came from taking coding classes at Emory University and volunteering for Black Girls Code. These experiences helped me understand that I wanted to direct my energy towards a career that was creative, challenging and literally made me leap out of bed every morning!
What advice do you have for future software engineers?
Try everything! It never hurts to try something you're interested in. You may end up loving it and it could be your life's passion/dream job.


Alicia V. Carr , CEO and Founder of Purple Evolution Inc. (PEVO)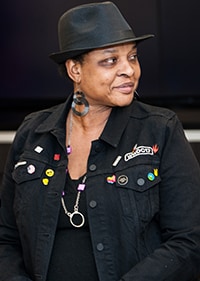 Coding for: 18 years, teaching herself HTML and 2012 Objective C and then Swift 2015
How did you get interested in coding?
I was standing in line at the Apple store buying my 2nd generation iPad, and met this 16-year-old about to buy his own $800 iPad. I asked him how he got the money'assuming he was going to say washing windows, mowing lawns, you know, chores. Instead he said he built an app and now has people working for him; as a 16-year-old. I asked how he learned to code, and he told me YouTube. I turned to my husband and told him that's what I wanted to do too.
What advice do you have for future software engineers?
Follow your dream. Live your passion. Love what you do. If you don't, you will never be happy with anything you do. So if it means you have to give back than do so. For me, at the age of 54, I am loving what I do.
When did you know you wanted to be coder?
When I was 16 years old, I put my hands on an IBM punch card machine. I was in heaven. I knew then that I wanted to be a computer programmer. My mom and I realized the cost [of college] was way more than what we could afford, but it was in my blood. Later while my husband was in the military, I got tired of working in retail. I went to the local college and took two courses on MS-DOS and DBase and got a job at a local bank as a database programmer. We then moved to Germany, and while living there, I would buy old broken IBM computers, take them apart and rebuild them. To me, coding is an art. I mean I am an ARTIST and I love it.

Amber Reed, Senior User Experience Designer at Honeywell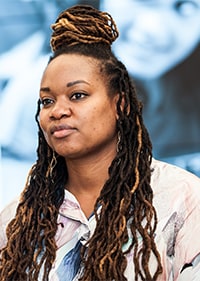 Coding for: Ten years, with three focusing on user experience and interaction design
How did you get interested in coding?
As a young girl, I was always into STEM programs. I fell in love with the computer and the internet in grade school and began attending computer science summer camps. From those experiences, I decided not to go strictly into coding, as I loved the hardware aspect as well as building things, so I majored in computer engineering.
What advice do you have for future software engineers?
Stay abreast of new technologies. Keep yourself excited by taking on fun projects and creating your own, and lastly, have fun at the same time.
Why do you think more girls/women aren't interested in STEM?
I think more girls aren't interested in STEM because at a young age many girls are socialized to believe science and math is something that boys are supposed to do, and/or know how to do really well.
Did you have a mentor, inspiring teacher, parent or support system?
My mom always pushed me to work hard and be a better person. I also was fortunate to have multiple teachers that believed in me and encouraged me. One of my high school coaches and math teachers, Mr. Brad Dolin, went above and beyond the call of duty to make sure I applied to colleges, gave me financial guidance, as well as got me involved in many other pre-college initiatives.



Copyright © 2022 Honeywell International Inc.