Ask an Aerospace Engineer
Ask an Aerospace Engineer
9 Questions with Jolana Dvorska, who talks about her love for aviation, smart robots and baking
Flying has always been a passion for Jolana Dvorska. The aerospace engineer has been with Honeywell for nearly 10 years, where she spends her days jet-setting -- literally. Based in the Czech Republic, she designs new ways for aircraft to navigate and land very precisely and leads technical aspects of the European Union's Single European Sky ATM Research (SESAR) program.

Did you always want to be an aerospace engineer?
I have always liked flying and airplanes. And I've always liked math and engineering. I always knew that I wanted a career in engineering although originally I wanted to build robots! And then during university I was looking at navigation and that brought me to the aerospace industry.
Robotics' loss - our gain. Can you explain in simple terms what your job involves?
Our teams develop technologies that help aerospace become even safer, greener, and more friendly to the people who live near airports, by enabling aircraft to fly different approaches, use less fuel in the process, and make very accurate landings and flight plans.

Safety is aviation's number one priority. So why do many people still have a fear of flying?
I think to some extent it is relinquishing control &endash; you drive your own car to the airport, or at least you probably know how the car works if you are being driven by someone else. But for most people that is not the case when flying, which is an unnatural thing for people to do anyway. Particularly during take-off and landing, or when the weather is bad, the aircraft moves about a lot and it's understandable people find this disconcerting. But the work that goes into aviation safety is unique; it really is our number one priority.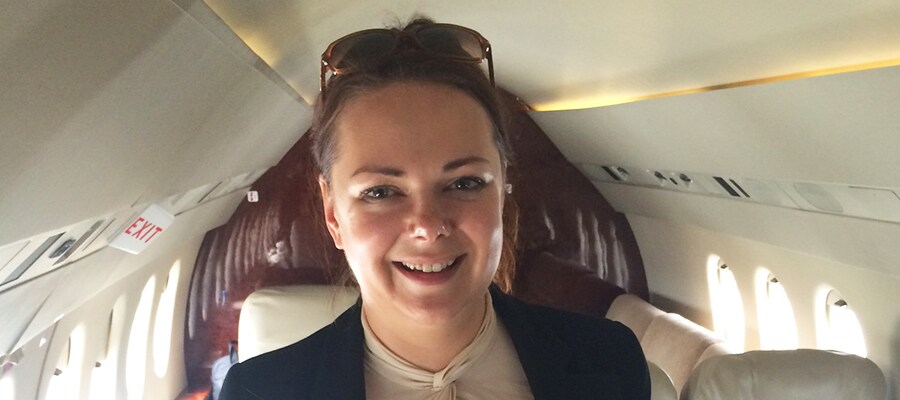 Do you think passengers will notice a difference as a result of the work you do?
Our work helps passengers by making flights more timely and reliable, helps communities near airports by minimizing aircraft noise, and helps operators, by helping them more easily avoid bad weather and meet more stringent punctuality targets.
We are working on greater automation for aviation to provide additional safety benefits, and improvements in scheduling and airspace capacity. The development of these systems takes time and their benefits are incremental. But by designing and improving these kinds of future aircraft technologies, we are making a big difference to the way we fly in the long term.
What is the best thing about your job - is it getting to fly test flights in our business jet test aircraft?
Ha! Seriously, the best thing is that every day is different. I am motivated by the fact that we are helping to build the future of aerospace with amazing state-of-the-art technologies. That's a huge deal and to have the opportunity be part of something as important as that, and work with some of the finest scientists and engineers around the world on it, is really exciting.
...and occasionally flying in business jets?
Well yes, that too ha ha.
What achievements over the last 10 years here at Honeywell are you most proud of?
There are several technical projects I'm particularly proud of, not just for me but for the whole team that worked on them. One project, which involved large scale demonstrations to prove our system was viable, won an award from the EU's Single European Sky for Innovation. Overall, I'm proud of what we have achieved as an engineering and flight operations team, and more broadly across the whole of the Advanced Technology group here in Brno. Over the last decade, I've seen us establish a great reputation externally for engineering excellence and that is something I am privileged to be part of.
Aerospace is perceived to be male-dominated. Is there an opportunity to see more women come into this industry?
I think it varies in different parts of the world and across different parts of aerospace, but I'd love to see more women in this industry. I think the emphasis needs to be placed on encouraging all young people, regardless of gender or background, to help them accomplish amazing things and achieve their goals. We have initiatives at Honeywell that are giving students the chance to job shadow, showcase the opportunities that are in store if they choose a career in engineering, and inspire them as they complete their science, technology, engineering, and math studies.
In all cases, I encourage young people to carve out a career doing something they are passionate about.
What if you hadn't have followed this career path?
Building smart robots! But, if I couldn't have done that, I'd have opened a bakery and bistro chain. I love cooking and baking so that would be cool. I love to travel too so it's great that my job gives me the chance to visit many wonderful places and work with amazing, smart people. I'm very happy with the direction my career has taken. I feel we are making a difference to the future of aviation by working on technologies that make it safer, more efficient, and more capable of moving millions of people around the world every day. Who wouldn't be happy doing that!