Future Engineers Take Control in a New Lab
Future Engineers Take Control in a New Lab
Romanian students gain practical skills in smart metering technology
Engineering students at University Politehnica Timisoara (UPT), Romania, can now put their theoretical knowledge into practice using the Honeywell Smart Meter Control Laboratory at the university's Electrotechnical and Energetical Faculty. The new lab is equipped with technology systems allowing students and faculty to simulate, learn and develop innovative smart systems aimed at reducing energy consumption. Technology includes electronic equipment, such as oscilloscopes, smart meter communication probes, consumption simulation sources, and IT infrastructures, such as computers and working stations for reading panel counters.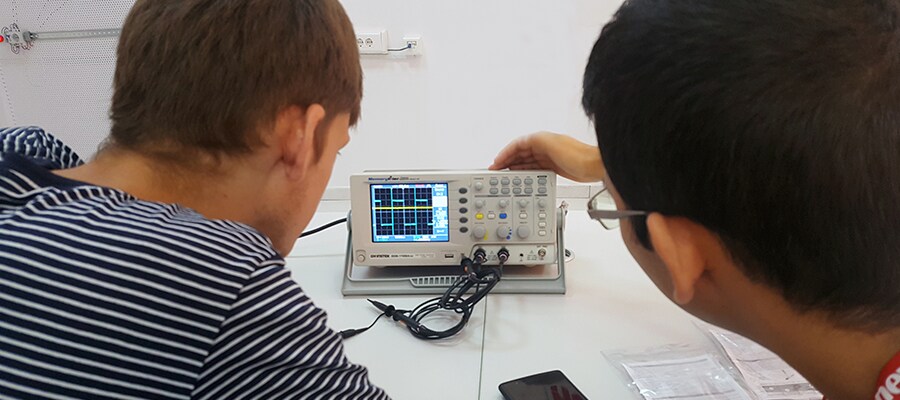 UTP students test an oscilloscope in the new lab
"It's awesome to be able to take the concepts we learned from textbooks and actually apply our knowledge in a lab," said Denisa Demian, a student who interned at our site in Timisoara. "Having real equipment and systems that simulate different environments and situations will help us learn from our mistakes and make adjustments."
Roxana Gostea, another former intern, agreed. "I am passionate about engineering, and the lab's technology looks so exciting &endash; it's the same equipment I worked with when I was an intern. I believe this initiative will help many students practice what they know from theory, thus making them more confident and better prepared for the job market."
Students will use the lab to enhance their learning in areas such as IT and computer programming, measurement of electrical dimensions, microcontrollers and integrated systems, quality of electricity, and virtual instrumentation.
The Honeywell Control Laboratory is sponsored by Honeywell Hometown Solutions, our corporate citizenship initiative.
Copyright © 2022 Honeywell International Inc.