How Technology is Keeping Schools Safe
How Technology is Keeping Schools Safe
Three ways analytics and technology are improving student safety
As schools continue to welcome students back this fall, many parents have more on their minds than just making sure their children have the right supplies for grade school, or furniture for college. More so than ever, they want to know if they're sending students to safe environments. With our technology, students can stay safer on school grounds by reducing the time it takes to communicate with local law enforcement during an emergency. That's how we found ourselves at John Wood Community College in Quincy, Illinois, testing new technology and gathering data that can be used in schools across the U.S. Teaming up with school officials and student groups, local law enforcement and local security distributor Alarm Systems, Inc., our analysts spent two days installing special equipment into existing security cameras. The integrated team then staged and recorded typical violent scenarios, which will give the analytics technology in the cameras data to inform systems and more quickly detect similar incidents in the future.
Here are three ways analytics technology can improve school security:
Detecting Guns, Gunshots and Active Shooters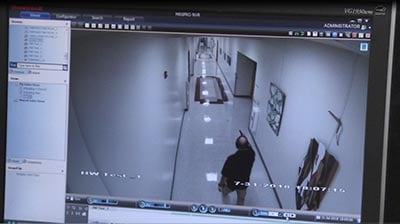 Local law enforcement acted as "bad guys" during the day-long data gathering exercise. In front of the analytics-equipped cameras, police officers armed with empty rifles and handguns were filmed walking up to and around the school holding guns and firing blank rounds. Once inside the building, the "bad guys" carried the guns into the school, simulating an active shooter situation. Why? So the technology within the existing security cameras can learn how to detect weapons, gun shots and active shooter scenarios and alert authorities in the event of actual gun presence on school grounds.
Adam Yates, a sergeant with the Quincy Police Department, acted as a "bad guy" during the gun detection scenarios. "In any type of active shooter event, response time is always key," he said. "To have technology in place that gets all of those [first responder] resources en route quicker, it's definitely going to save lives."
Identifying Fights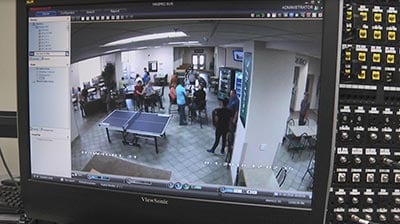 Outside of gun violence, fights continue to be a security issue. By simulating combative situations – how they begin, crowd response and how they're broken up – the data collected can detect the beginnings of fights, alert school authorities and prompt a quicker response.Bruce Montgomery is a business development manager in our security division, who helped facilitate the scenarios and understands how critical this technology is to faster response time. "Now we're taking the cameras and we're making them smart and we're giving them the ability to notify us when things are happening when nobody's watching the camera," he said.
Analyzing Crowd Behavior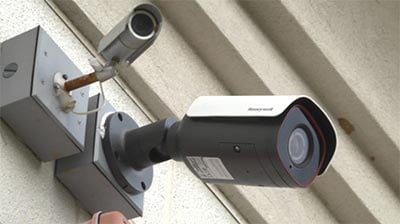 By recording scenarios of mass crowd behavior, the data collected from the staging means the school's cameras will be able to alert school officials if unusual activity is detected. Bill La Tour, dean of operations and chief of police for the college, knows how important it is to have smart technology working alongside a dedicated security team. "I think the technology we've been witness to the last couple of days would really impact our ability to respond much quicker than we can now," he said.
"The ability to be proactive and have an alert of the potential that something bad might happen would be huge."
Copyright © 2022 Honeywell International Inc.