Military Veterans: Then & Now
Military Veterans: Then & Now
Four of our colleagues take us through their careers in and out of the military
We try to celebrate veterans all year long, as we are forever grateful for all the sacrifices our colleagues and their military families have made.
This Veterans Day, it's a privilege to be included in Glassdoor's "9 Awesome Companies Hiring Veterans Now!" and we are honoring the occasion by taking a look at a few of our employees' stories -- in the military and in the office.
Linda LaGorga (pictured above)
Served: 1990-1994
Where: Naval Air Facility Washington and Navy Security Group Activity Sugar Grove.
Then: Lieutenant, Civil Engineer Corps, Public Works Officer -- As Public Works Officer, I led the team who managed the operations, maintenance and development of base facilities and the transportation fleet
Now: Vice President, Business Analysis and Planning -- Lead the organization that is responsible for the consolidated financial planning including annual planning (AOP), short-range outlooks (SRO), ongoing financial analysis to drive business actions and outcomes, management reporting and other company-wide financial initiatives

How does what you learned in your time in the military help you with your work? Teamwork is critical to achieving the best results and outcomes in any role. My teams in the military included people with diverse backgrounds, skills and experiences. I quickly learned the importance of listening and fostering a culture of open idea generation. Throughout my career, this approach has positioned me to make better decisions, drive buy-in for change management and reach targeted goals.

What makes Honeywell a good fit for veterans? Honeywell's behaviors and principles align well with values and skills of military veterans including integrity, results-driven leadership, accountability and perseverance.
Tony Stallings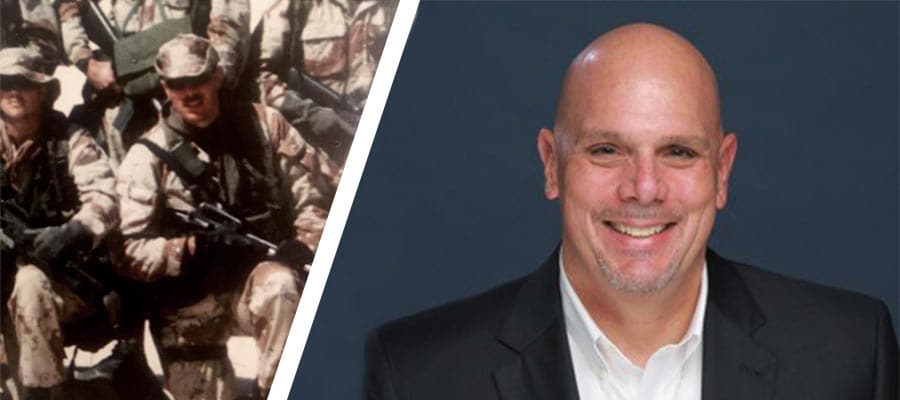 Served: 1984-1999
Where: Primarily based out of Camp Pendleton, CA, I was deployed all over the world, including Central America, Nordics, Asia Pacific and Middle East. Most notable and lengthy deployment was to the Middle East for Operations Desert Shield and Desert Storm (Persian Gulf war).
Then: Major, United States Marine Corps -- The majority of my career was in Special Operations as part of the Marine Corps' 1st Force Reconnaissance group. I led joint-service teams, detachments and tasks forces on a variety of missions. The latter part of my career was in the Supply and Logistics field.
Now: Vice President, Integrated Supply Chain
How does what you learned in your time in the military help you with your work? How to build and lead teams to accomplish a mission.
What makes Honeywell a good fit for veterans? The environment is fast-paced and the culture is performance driven, results-oriented. Both are very familiar to veterans.
Theresa Y Schulz, PhD
Served 1984-2004, US Army for three years and United States Air Force (USAF) for 18 years
Then: Lieutenant colonel, USAF -- I had an unusual career as my assignments were all in the Continental US.
Now: Global Training Manager-General Safety -- As a military audiologist, my mission was to save the hearing of Soldiers, Sailors, Airmen and Marines. When I came to work for Honeywell, my job was to save the hearing of EVERYONE! My current training job continues that goal and broadens it to "protect the safety of EVERYONE!"
How does what you learned in your time in the military help you with your work? My military experience gave me a broad range of opportunities. I learned how to recognize opportunities, how to work in diverse work environments. One of the opportunities I could take advantage of in the military was involvement in professional organizations such as the National Hearing Conservation Association (NHCA). Honeywell also supports involvement in safety industry professional organizations such as the International Safety Equipment Association (ISEA). These organizations allow competitors to become colleagues to improve the industry and protect workers worldwide.
What makes Honeywell a good fit for veterans? My colleagues at Honeywell appreciate the sacrifices that military member and their families make.

Chris Lay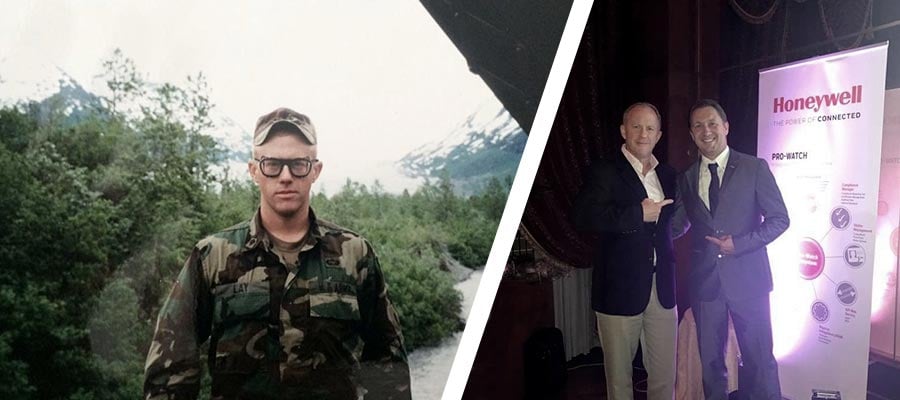 Served: 1993-1996
Where: Stationed at Schofield Barracks, HI
Then: Senior Scout Observer -- 25th Infantry Division- 125 MI Long Range Surveillance Detachment (unit previously designated Long Range Reconnaissance Patrol LRRP/Ranger unit lineage)
Now: US sales manager for Honeywell Integrated Security/Pro Watch.
How does what you learned in your time in the military help you with your work? Security surveys of threats and vulnerabilities and mitigation were learned skills; organizational efficiency and leadership under duress and stressful deadlines with attention to detail, something the upper end of US operating forces are good at imparting to young soldiers.
What makes Honeywell a good fit for veterans? Honeywell is a great place for veterans to work in. Our direct connections to real-world missions and operations of both local and national government, critical infrastructure and heavy industry give veterans insight into highly custom ways that we can solve problems for our customers. We could not otherwise perform without the experience. Honeywell has been a fantastic place to spend the last 12 years.