|
|
|
/content/honeywellbt/us/en/search.html
How Tuba City is Fighting Against COVID-19
How Tuba City is Fighting Against COVID-19
Here's what N95 masks mean to a rural hospital serving the Navajo Nation
When a donation of N95 protective masks from Honeywell arrived at Tuba City Regional Health Care (TCRHC) in Tuba City, Arizona, the 160 staff on rotation in the respiratory care unit knew they would be able to breathe easier.
Located in Navajo Nation territory in northern Arizona, TCRHC has been one of the areas in the United States hit the hardest by COVID-19, according to the health provider. If the Navajo Nation were its own state, it would have the highest per-capita rate of confirmed positive cases in the country.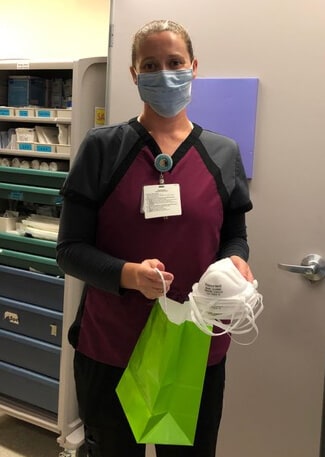 Protecting providers and patients
Honeywell's donation of N95 masks from its recently launched production line in Phoenix allows providers at TCRHC to follow effective safety protocols while caring for patients with COVID-19.
Rather than rationing masks to one per shift or using them until they fail, health care providers in the respiratory care unit can now change their mask between every patient.
Before the donation arrived, the hospital was struggling with a scarcity of protective equipment for staff.
"We had to get creative with our supplies," said TCRHC director of program development Tanya Riggs.
(Pictured: TCRHC nursing director Bridget Elliot receives a donation of Honeywell N95 masks.)
Serving rural communities



As a hospital in a rural area, TCRHC faces challenges that its urban counterparts do not.
Located 80 miles from Flagstaff, Arizona, and 220 miles from Phoenix, transferring patients is a complex process that can take patients far away from their loved ones who frequently lack transit options.
Staff and contract nurses also have to live on site, both to be close to the hospital and to contain any potential outbreaks among personnel.
"Without organizations like Honeywell donating personal protective equipment, our work would be much more difficult," Riggs said.
Pictured at the top from left: TCRHC staff Tamaria Featherlin, progressive care unit director, internal medicine doctor Lynne Fakeye, nursing director Bridget Elliot and internal medicine doctor Daniel Lesky.
Learn more about how Honeywell is manufacturing N95 masks.