|
|
|
/content/honeywellbt/us/en/search.html
Golf Tournament Tees Off New Safety Standards
Golf Tournament Tees Off New Safety Standards
Challenge:
During the COVID-19 pandemic, many public events and social gatherings have been cancelled. Social distancing guidelines require people to wear face coverings and keep 6-feet of distance from others in public spaces. The American Century Championship wanted to continue its golf tournament in this era while making sure golfers, celebrities and family members were kept safer.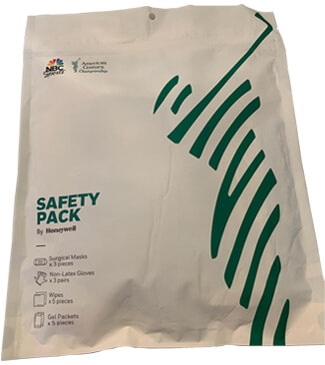 Solution:

The American Century Championship implemented a comprehensive safety plan and held the event without spectators. For the more than 70 people in attendance, officials provided Honeywell Safety Packs in packaging customized for the event. Honeywell offers multiple versions of the safety packs that can satisfy single or long-term use. All versions of the safety packs come in resealable bags for easy transportation and can have contents and casing customized for organizations' needs.
Result:
The golf tournament was able to be played and broadcasted, raising more than $600,000 funds for COVID-19 relief and Lake Tahoe area nonprofits.