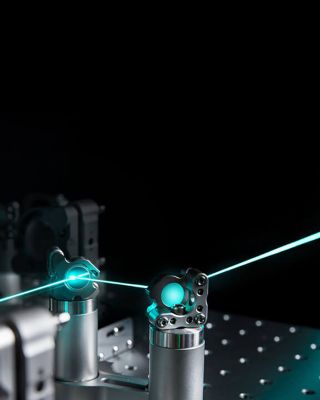 Honeywell Quantum Solutions
Our quantum computing future is built on our technology heritage.
Quantum computing will revolutionize the way we work. That's why we've spent more than a decade focused on ways to not only help architect this massive expansion of computational power and problem solving, but accelerate it, too.
As a leading technology company, we will shape the adoption and integration of quantum information systems into the industries we serve.
PHARMACEUTICALS
Improve the efficiency of early-phase drug design and discovery
CHEMICALS
Accelerate development of new chemicals
FINANCE
Reduce risk through improved portfolio insight
AEROSPACE & DEFENSE
Develop new aircraft materials and military technology
OIL & GAS
Optimize production and expedite exploration
DATA CENTER
Accelerate machine learning and analysis of large data sets.
MANUFACTURING
Gain visibility into design and production limitations
TELECOMMUNICATION
Optimize antenna efficiency and bandwidth utilization
Our Quantum Technology Enables High-Quality Qubits
Defined in nature by their atomic structure, our trapped-ion qubits can be uniformly manufactured and controlled more easily and quickly compared to alternative qubit technologies that do not directly use atoms. This is why we use the term "Nature's Qubit", for our systems - our qubits are all identical and defect-free.
Capability
High fidelity and high qubit count with error rates at the leading-edge of industry capability
Reconfigurability

Dynamic qubits that can be rearranged and interacted to improve algorithm opportunities
Robustness
A century of control systems excellence for precise and stable operation
WHY HONEYWELL
Our Approach Stems from Our Heritage
After more than 130 years of innovation, our strengths in science, engineering and research, along with our domain and software expertise, allow us to offer our partners and customers a competitive edge.
Trapped-ion quantum computers use numerous, individual, charged atoms (ions) to hold quantum information. Our systems use electromagnetic fields to hold (trap) each ion so it can be manipulated and encoded using microwave signals and lasers.
The complexity of these control systems is aligned to our expertise, because we've been building them for decades. As a leader in hardware, software and intuitive user interfaces, we have the end-to-end capabilities necessary to design, build, and integrate critical subsystems and components to facilitate trapped-ion technology.
OUR TEAM IS READY
Universities & Organizations
Nearly 100 scientists, engineers and technicians, each with expertise in their field come from many of the world's top institutions and organizations focused on quantum information systems.
California Institute of Technology (Caltech)
Georgia Institute of Technology
Harvard University
Louisiana State University (LSU)
Massachusetts Institute of Technology (MIT)
Stanford University
University of California, Berkeley
University of California, Los Angeles (UCLA)
University of California, Santa Barbara
University of Chicago
University of Colorado Boulder – JILA
University of Maryland
University of New Mexico
University of Texas at Austin
University of Wisconsin – Madison
Various national and military laboratories
SCIENTIFIC PAPERS
Our Research Contributions
As we bring our quantum computer to market, we continue to innovate and contribute to leading research. Learn more.
OUR QUANTUM COMPUTER
How to Work With Us
You can now solve problems with the Honeywell System Model H1.
Want to Join Our Team?
In addition to traditional engineering (electrical, mechanical, optical, systems, and software), our team has capabilities in Atomic, Molecular and Optical (AMO) Experimental and Theoretical Physics, vacuum and cryogenic engineering and quantum theory.
Contact Us
For more information about Quantum Solutions, send us an email.