|
|
|
/content/honeywellbt/us/en/search.html
How Shelters Are Serving the Homeless During COVID-19
How Shelters Are Serving the Homeless During COVID-19
Here's what face coverings mean for nonprofits around the U.S.
Roof Above, a homeless shelter in Charlotte, N.C. had to rethink operations at the onset of the pandemic.
Then, winter brought new challenges and a strain on resources.
"As the weather has changed, we've had to continue to adapt," said Liz Clasen-Kelly, CEO of Roof Above, a homeless shelter in Charlotte.
In January 2021, donations of protective face coverings arrived at Roof Above and other community organizations and homeless shelters across the U.S.
Here's what the donations from Honeywell mean for four organizations – and how they're responding to the challenges posed by COVID-19.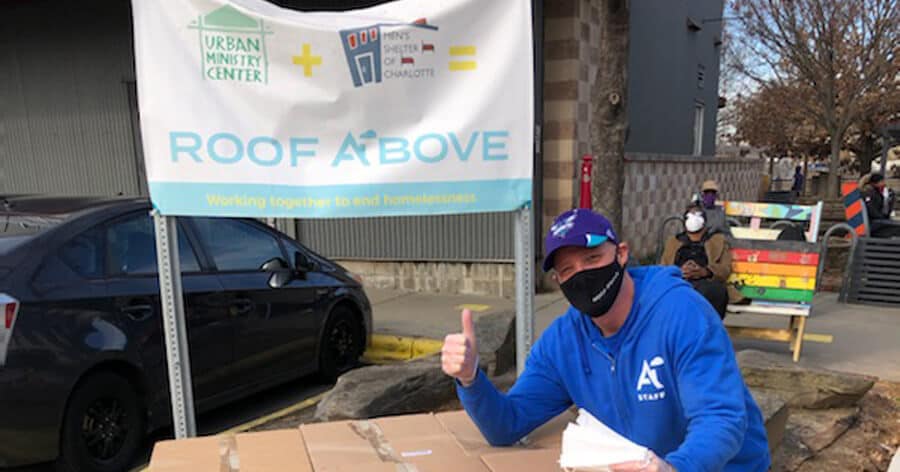 Roof Above Chief Engagement Officer Randall Hitt with Honeywell face coverings that the nonprofit will use to protect its clients experiencing homelessness.
COVID-19 challenges: Social distancing can be a hurdle for homeless shelters, as many services involve people gathering indoors. Roof Above made significant changes to promote social distancing, including moving a shelter to a local motel and opening a new shelter in an unused college dormitory.
Donation impact: Roof Above will use face coverings to keep the people it serves each day safe, especially in its shelters and Day Services Center.

SEARCH Homeless Services, Houston
Pictured at the top of the page

COVID-19 challenges: The pandemic has restricted the ability of SEARCH team members to provide in-person support for its 900 clients. In response, SEARCH has developed creative solutions, such as leveraging technology, to help them support the people it serves – wherever they are. Technology has helped with virtual housing briefings and telehealth appointments. These are done with ipads in the field or in a social-distance space set up at SEARCH for virtual calls.
Donation impact: Many of the people SEARCH serves have limited access to hygiene products, especially those who sleep outside. Face coverings will help SEARCH improve safety for its unsheltered clients who come indoors to access services.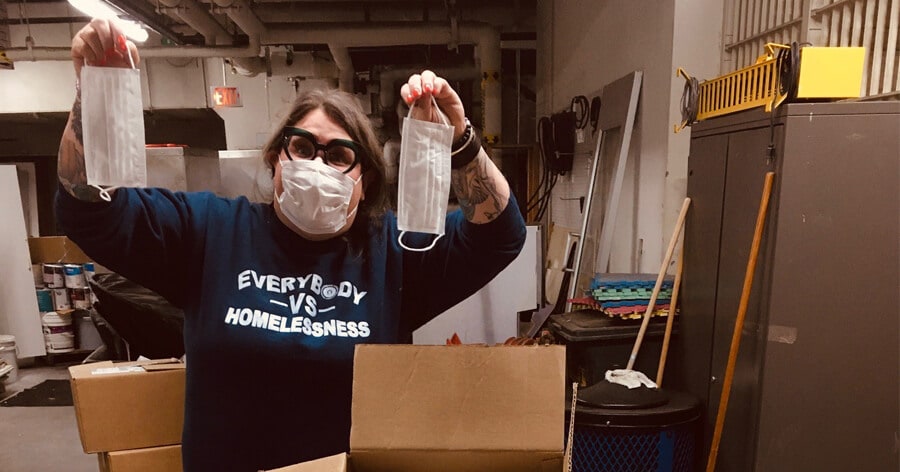 Rebecca Cranford, Gateway Center Director of Community Engagement, donned a face covering before packing away the remainder of the donation.
COVID-19 Challenges: Gateway has made significant changes to adapt to the pandemic. It implemented new procedures and protocols to help prevent the spread of the virus, including face covering requirements, social distancing and daily wellness checks. The team has also increased its use of face coverings, going through 800 per week to keep guests and employees safe.

Donation impact: Face coverings are critical to Gateway Center's daily operations during COVID-19, allowing the nonprofit to maintain a safe environment for guests, staff and visitors. Gateway also will use some of the funds saved on face covering purchases for other vital services, such as case management and food operations.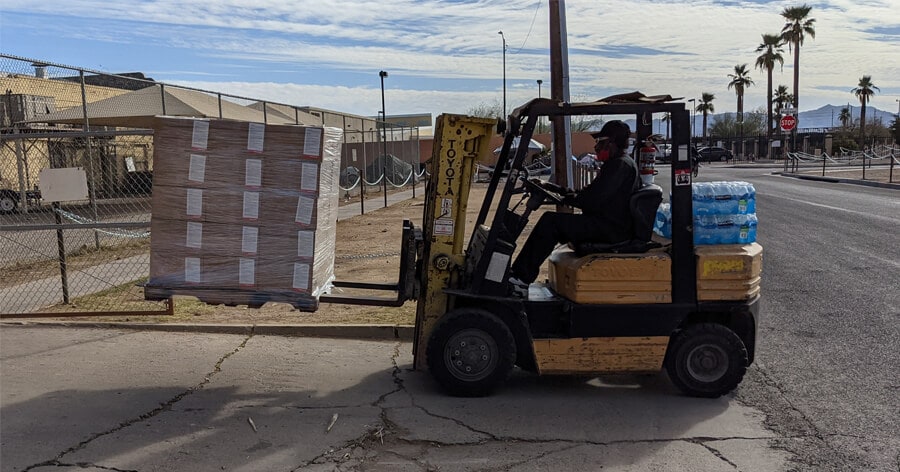 Human Services Campus AHC Maintenance Technician Victor Rice helped HSC find room for Honeywell's donation of more than 100,000 face coverings.
COVID-19 Challenges: To adapt its services for social distancing procedures, Human Services Campus (HSC) has expanded staff and identified new indoor and outdoor spaces for shelter and weather relief. HSC is also serving an increased number of people in need.

Donation impact: HSC works to address the unique needs of each of its clients to end their homelessness. Face coverings will help HSC keep its staff and clients safer across the campus.