|
|
|
You are browsing product catalog for
/content/honeywellbt/us/en/search.html
Honeywell Intelligrated Launches New Outcome-Based Service Program for Distribution Center Customers
Honeywell Intelligrated Launches New Outcome-Based Service Program for Distribution Center Customers
Assurance 360 is a flexible service program that delivers customer-specific, measurable outcomes to help reduce total maintenance costs
FORT MILL, S.C., June 25, 2019 – Honeywell (NYSE: HON) today announced a new service management program for its distribution center customers that is tailored to specific, measurable goals to optimize performance and help reduce total lifecycle costs for material handling equipment and automation systems.
With Assurance 360, Honeywell's distribution center customers can now benefit from a scalable, outcome-based lifecycle maintenance and services program that is customized for their desired objectives. The program, which is digitally enabled, begins by understanding and defining specific key performance indicators. Honeywell experts then build and deliver a specific, measurable plan with agreed-upon service levels for each customer supported by automated workflows and triggers.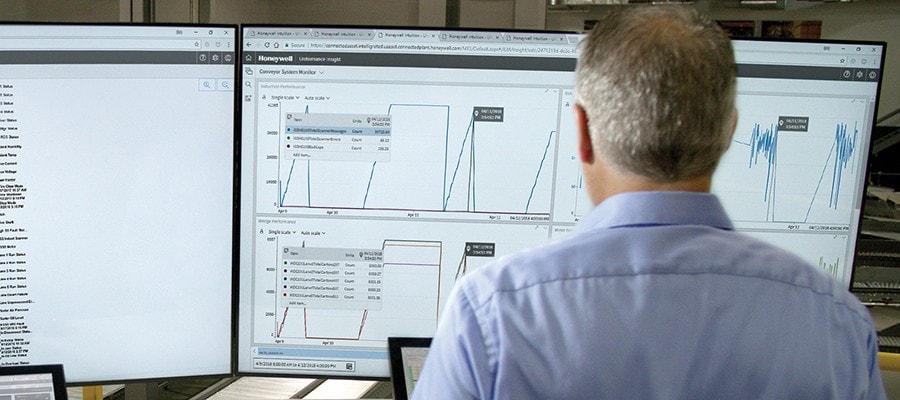 "Continued growth in e-commerce means more and more pressure on supply chains, creating challenges for distribution center leaders to ensure material handling equipment and staff are as productive and efficient as possible," said Joe Carelli, vice president of lifecycle support services for Honeywell Intelligrated. "With our new Assurance 360 cooperative service model, customers can focus on what matters to their business while transferring responsibility of their desired equipment performance outcomes to us as their services provider."
For example, some distribution centers may be focused on reducing costs while maximizing uptime and throughput. Others may need more specific outcomes such as increasing picking efficiencies or routinely achieving critical delivery times. Distribution center operators can self-perform the required services, augmented by Honeywell Intelligrated subject matter experts, or completely outsource. Assurance 360 provides the capability and mechanism to drive the required outcomes regardless of customer preference.
Once the key performance indicators are defined, Honeywell Intelligrated's experts assess the customer's operations, equipment and systems. The team then develops a multi-year asset management plan to deliver agreed-upon outcomes.
Assurance 360 delivers flexible solutions that range from support for existing systems all the way up to fully-integrated, Honeywell Intelligrated-executed contracts with guaranteed system performance.
Customers have options for which solutions they can deploy:
Assurance 360 Performa addresses today's skills shortage, helping customers maintain automation systems that are crucial to meeting production goals. With Assurance 360 Performa, Honeywell Intelligrated collaborates with users' internal staff to develop valuable know-how and augment their workforce with technology and/or resources. The program helps users build competencies and sustain expertise within their organization through best practices in automation support that are tracked by defined outcome metrics.
Assurance 360 Optima delivers agreed-upon service levels for system support, maintenance, optimization and change management with guaranteed results. As a strategic partner, Honeywell Intelligrated provides the necessary skilled labor and materials to achieve the defined outcomes with payment adjusted by the results achieved.
Assurance 360 customers will also benefit from the operational insights provided by The Connected Distribution Center, which gathers data from key inputs to deliver vital information on asset health and facility performance in real time. Honeywell Intelligrated is uniquely positioned to apply operating data analytics to deliver critical business outcomes.
"This outcome-based services approach has been proven successful for Honeywell's customers in the commercial buildings and the oil and gas sectors, and now distribution and fulfillment centers can benefit from this tailored program that guarantees performance," said Carelli.
Honeywell Intelligrated provides distribution centers with a complete range of lifecycle management services, including resident maintenance technicians, dedicated technical support, training, a technology roadmap and spare parts optimization. These solutions help customers improve reliability, safety and productivity, ultimately helping customers maximize uptime, reduce total cost of ownership and improve maintenance programs.
Honeywell Safety and Productivity Solutions (SPS) provides products, software and connected solutions that improve productivity, workplace safety and asset performance for our customers across the globe. We deliver on this promise through industry-leading mobile devices, software, cloud technology and automation solutions, the broadest range of personal protective equipment and gas detection technology, and custom-engineered sensors, switches and controls. We also manufacture and sell a broad portfolio of footwear for work, play and outdoor activities, including XtraTufTM and Muck BootTM brand footwear.
Honeywell (www.honeywell.com/us/en) is a Fortune 100 technology company that delivers industry specific solutions that include aerospace products and services; control technologies for buildings and industry; and performance materials globally. Our technologies help everything from aircraft, buildings, manufacturing plants, supply chains, and workers become more connected to make our world smarter, safer, and more sustainable.  For more news and information on Honeywell, please visit www.honeywell.com/us/en/news.