|
|
|
You are browsing product catalog for
/content/honeywellbt/us/en/search.html
will.i.am Debuts Innovative Face Technology Concept, XUPERMASK, in Partnership with Honeywell
will.i.am Debuts Innovative Face Technology Concept, XUPERMASK, in Partnership with Honeywell
Los Angeles, California - Tuesday, April 6th, - Creative and tech innovator will.i.am has partnered with Honeywell to debut XUPERMASK (so͞opərmask), the game-changing, high-concept face technology designed to help you meet face mask guidelines without compromising style, launching on April 8, 2021, bringing modern tech into the modern world.
A partnership between will.i.am and pioneering manufacturing and technology leader Honeywell, the new joint venture offers one-of-a-kind innovative smart mask for the mid- and post-pandemic world via wearable technology, created ergonomically to fit and enhanced with multiple functions for the modern lifestyle.
XUPERMASK is constructed out of innovative materials, including silicone face seal and secured by an elastic strap for comfort and high performance. Easily adjustable to a variety of face shapes, the powerful accessory has the durability to be worn up to 365 days a year anywhere in the world. Multifaceted, XUPERMASK features dual 3-speed fans and HEPA filters for enhanced breathability. Alongside its integrated features, XUPERMASK boasts active noise cancelling audio and microphone capabilities, Bluetooth® 5.0 connectivity, LED day glow lights, a magnetic earbud docking system and more.
Powered by a 7-hour battery, the XUPERMASK is unlike any other wearable tech product on the market.
"We created XUPERMASK to change the game of our new normal. In this new age of style and security, XUPERMASK is an uncompromising face mask design with high-tech performance for the modern lifestyle. Alongside Honeywell, we've engineered a state-of-the-art Smart Mask to provide function with style." – will.i.am
"XUPERMASK offers wearers cutting-edge design and functionality. Its blend of fashion, technology and function is unparalleled. We are proud to have partnered with will.i.am on this unique and innovative project," – Darius Adamczyk, chairman and chief executive officer of Honeywell.
Created in two sleek colorways: white/gray/orange and black/black/orange, XUPERMASK arrives in two ergonomic sizes each including a XUPERKIT containing a carrying case, 3 month supply of HEPA filters, multi-size ear tips, USB-C charging cable, and a fabric mask.
MODERN TECH FOR THE MODERN WORLD
WHITE/GREY/ORANGE
SIZES - S/M & M/L
RETAIL USD $299
BLACK/ORANGE
SIZES - S/M & M/L
RETAIL USD $299
DROP 1 - AVAILABLE 4/8
DESIGNED BY will.i.am & Jose I. Fernandez in partnership with Honeywell
FACE TECHNOLOGY
HIGH-PERFORMANCE MATERIAL FOR COMFORT & MOBILITY
ACTIVE 3 SPEED DUAL FANS
HEPA FILTERS
30 DAYS REPLACEABLE HEPA FILTERS 
ACTIVE NOISE CANCELING AUDIO
BLUETOOTH®5.0 CONNECTIVITY
QUALCOMM QCC5124
INTEGRATED NOISE REDUCTION MICROPHONE
UP TO 7 HOURS BATTERY LIFE ON A SINGLE CHARGE
EXTERNAL CHARGING PORT - MASK CAN BE WORN WHILE CHARGING
LED DAY GLOW LIGHTS
MULTI-FUNCTION BUTTON CONTROLS
MAGNETIC EARBUD DOCKING SYSTEM
ADJUSTABLE CUSTOM DESIGNED HEAD STRAP FOR ERGONOMIC FIT 
PATENTED DESIGN & IP PROTECTED
AVAILABLE IN 2X SIZES - SM/ML 
AVAILABLE IN 2X COLORS
AVAILABLE TO SHIP - USA/CANADA/UK/EU
LIMITED EDITION PACKAGING FOR DROP 1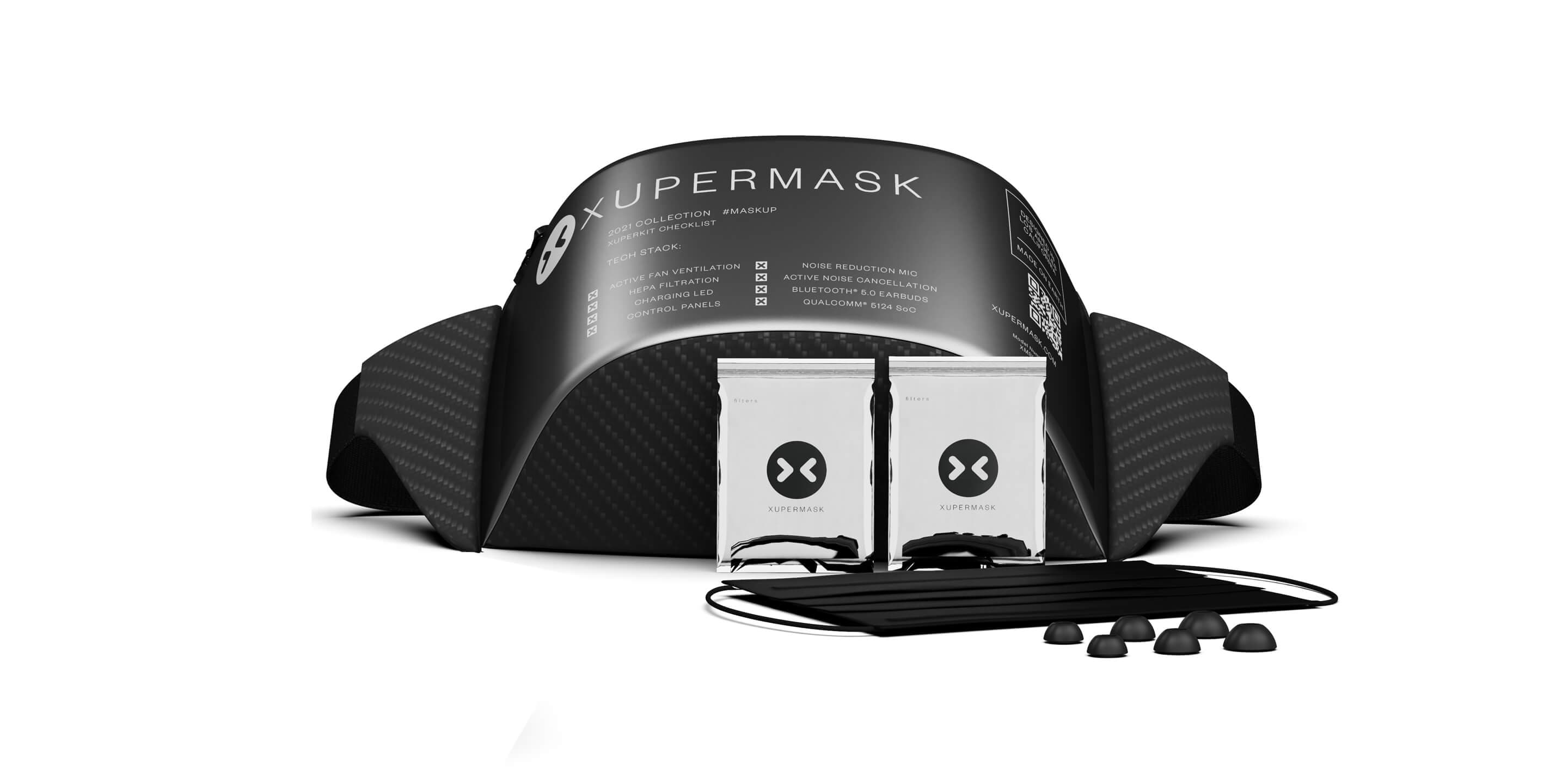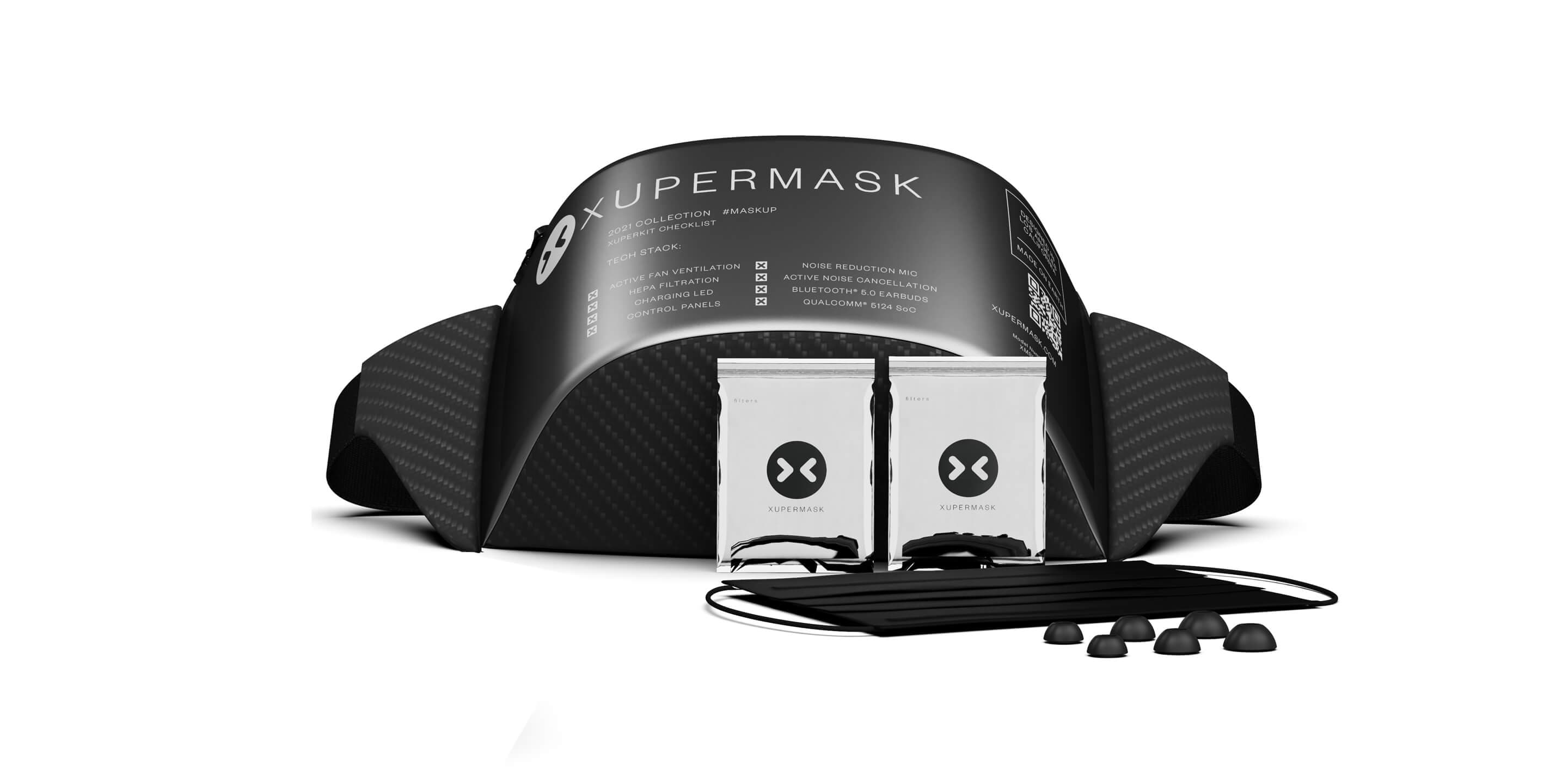 XUPERKIT
Included with every XUPERMASK purchase
CARRY CASE
3 MONTHS OF HEPA FILTERS
MULTIPLE SIZED EAR TIPS
USB-C CHARGING CABLE 
FABRIC MASK
XUPERMASK - Drop 1 - APRIL 8, 2021

Will be available at XUPERMASK.com shipping to US, Canada, UK, and EU starting April 8, 2021.
For media inquiries, contact: Sandrine Charles, sandrine@sandrinecharles.com, 347-273-7915.


ABOUT XUPERMASK

A new era of smart masks has emerged, combining face technology with integrated audio engineering. Founded in 2021 by creative artist and entrepreneur will.i.am, XUPERMASK delivers style and function to face technology like no other. XUPERMASK combines HEPA filters with high-performance and utility for modern living. The unprecedented smart mask joins will.i.am's universe of world-changing technology.
ABOUT HONEYWELL

Honeywell (www.honeywell.com/us/en) is a Fortune 100 technology company that delivers industry-specific solutions that include aerospace products and services; control technologies for buildings and industry; and performance materials globally. Our technologies help aircraft, buildings, manufacturing plants, supply chains, and workers become more connected to make our world smarter, safer, and more sustainable. For more news and information on Honeywell, please visit www.honeywell.com/us/en/news.
WARNING: This face mask has not been FDA cleared or approved. The product has been authorized by FDA under an EUA for use as source control by the general public as well as by HCP in healthcare settings as to help prevent the spread of infection or illness during the COVID-19 pandemic. This product is authorized only for the duration of the declaration that circumstances exist justifying the authorization of the emergency use of medical devices, including alternative products used as medical devices, during the COVID-19 outbreak, under section 564(b)(1) of the Act, 21 U.S.C. §360bbb-3(b)(1) unless the authorization is terminated or revoked sooner. The face mask is intended to be used with the HEPA filter inserts. This product, which is not for medical use or for use in a high infection risk clinical setting, is not a respiratory protective device, nor a substitute for filtering face piece respirators or for surgical face masks. It is not intended to be used to provide liquid barrier protection or for high-risk aerosol generating procedures.