|
|
|
You are browsing product catalog for
/content/honeywellbt/us/en/search.html
Weather-Related Natural Disasters Likely to Have Material Impact on Sustainability Initiatives, Says Honeywell's Environmental Sustainability Index
Weather-Related Natural Disasters Likely to Have Material Impact on Sustainability Initiatives, Says Honeywell's Environmental Sustainability Index
Quarterly Index reveals a growing number of organizations globally are boosting annual sustainability investments by at least 50%, and are optimistic about achieving short- and long-term objectives
CHARLOTTE, NC, November 1, 2023 – More than six in 10 organizations globally (62%) say recent wildfires, floods, and storms during 2023 will have a material impact on their environmental initiatives, according to the fifth edition of Honeywell's Environmental Sustainability Index (ESI.) Another 45% admit the extreme heat will have or has already had a material effect on their near-term plans. Compiled quarterly by Honeywell (NASDAQ: HON) and The Futurum Group, the ESI gauges movement in corporate sentiment and investment on the sustainability front.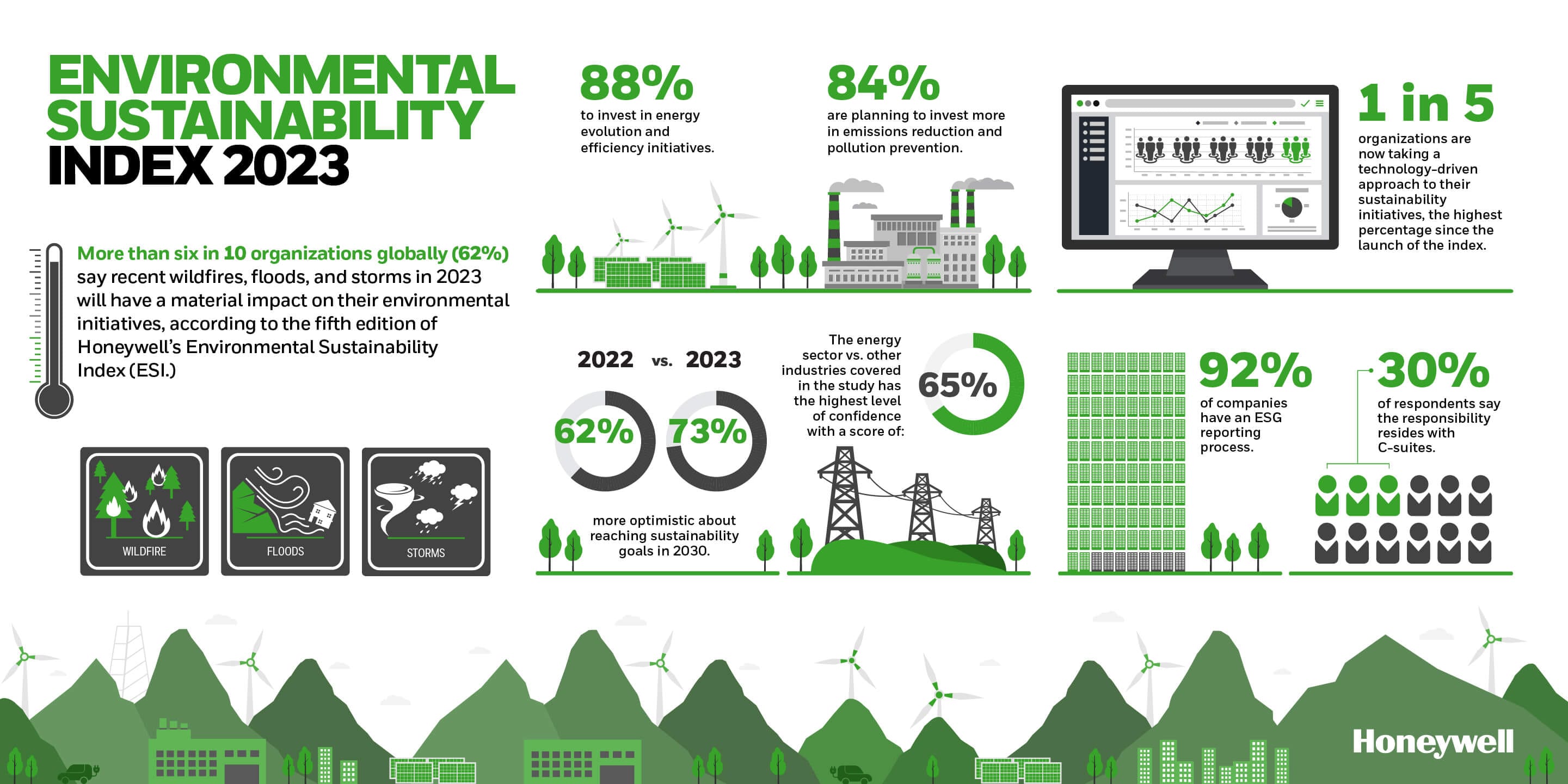 "The extreme weather events this year have increased the sense of urgency for immediate action at organizations," said Gavin Towler, Chief Scientist for Sustainability and Chief Sustainability Officer at Honeywell. "As a result, we should expect to see more organizations looking to accelerate their sustainability efforts and, in particular, adopting a technology-driven approach to their energy transition plans."
The findings shed light on the plans and progress made in sustainability efforts across regions and industry sectors:
Nearly nine in 10 (88%) organizations are planning to increase their budgets for energy evolution and efficiency initiatives.
Almost three-quarters (73%) of organizations are at least somewhat optimistic about achieving near-term goals, up from 62% a year ago. The energy sector shows the highest level of confidence among the industries covered in the study.
Nearly one in five organizations are now taking a technology-driven approach to their sustainability initiatives – the highest percentage since the launch of the Index.
Ninety-two percent of respondents have an ESG reporting process in place, while 30% say the responsibility resides in the C-suite.
Honeywell's quarterly Index measures corporate sustainability commitment globally in aggregate. It also compiles data to gauge activity in four specific sustainability areas: energy evolution and efficiency; emissions reduction; pollution prevention; and circularity and recycling. The Index further breaks down its findings by four regions (Asia Pacific, EMEA, Latin America and North America) and eight industry sectors (banking, consumer goods, energy, government/public sector, healthcare, technology, manufacturing/construction and transportation/logistics.)

Daniel Newman, CEO of The Futurum Group, said, "The data is showing that organizations in the public and private sectors are actively forming frameworks to partake in either policy-driven or investment and technological-oriented action in effort to address the global objectives in environmental sustainability."
To download the full index and survey report, please visit here: Honeywell ESI.
Methodology
The Environmental Sustainability Index is based on a global double-blind survey of 751 business, technology, and sustainability professionals directly involved in the planning, strategic development, implementation, or oversight of environmental sustainability goals and initiatives. Panelists were required to be in a leadership role within their organization, with organizations required to have a minimum of 1,000 active employees. This survey was conducted during Q3 of 2023. The first edition of the survey was conducted during Q2 and Q3 of 2022; the second edition was conducted in Q4 of 2022; the third edition was conducted in Q1 of 2023 and the fourth edition was conducted in Q2 of 2023.
About Honeywell
Honeywell is an integrated operating company serving a broad range of industries and geographies around the world. Our business is aligned with three powerful megatrends – automation, the future of aviation and energy transition – underpinned by our Honeywell Accelerator operating system and Honeywell Connected Enterprise integrated software platform. As a trusted partner, we help organizations solve the world's toughest, most complex challenges, providing actionable solutions and innovations that help make the world smarter, safer and more sustainable. For more news and information on Honeywell, please visit www.honeywell.com/newsroom.
About The Futurum Group
The Futurum Group (www.futurumgroup.com) is an independent research, analysis, and advisory firm, focused on digital innovation and market-disrupting technologies and trends. Every day our analysts, researchers, and advisors help business leaders from around the world anticipate tectonic shifts in their industries and leverage disruptive innovation to either gain or maintain a competitive advantage in their markets.
Disclaimer:
The information presented in this document is intended solely for informational purposes and not as advice or recommendations for any particular action or investment.  The information should not be relied upon, in whole or in part, as the basis for decision-making or investment purposes. The document and its contents are not guaranteed as to accuracy or completeness and are provided on an "as is" basis.  Use of this information is at your own risk.  Honeywell disclaims all warranties as to the accuracy, completeness, or adequacy of such information and shall have no liability for errors, omissions, or inadequacies in such information. This document includes opinions that should not be construed as statements of fact. Any opinions expressed herein are subject to change without notice. Any forecasts and forward-looking statements are directional indicators, are not predictions of future events, and do not in any way reflect expectations for (or actual) Honeywell operational or financial performance. Any forecasts and forward-looking statements represent our current judgment and are subject to risks and uncertainties that could cause actual results to differ materially. You are cautioned not to place undue reliance on these forecasts and forward-looking statements, which reflect our opinions only as of the date of publication of this document. Honeywell is not obligated to revise or publicly release the results of any revision to these forecasts and forward-looking statements in light of new information or future events.