|
|
|
/content/honeywellbt/us/en/search.html
Behind the Scenes at a Mass Vaccination Site
Behind the Scenes at a Mass Vaccination Site
What to expect at a drive-through clinic that administers thousands of shots a day
The Charlotte Motor Speedway recently hosted a different kind of race.
The site served as a North Carolina mass vaccination clinic where hundreds of Atrium Health medical staff worked to speed up the delivery of COVID-19 vaccines to eligible individuals.
This enabled about 5,000 people a day to receive their first of two shots, more than 10 times the amount administered at community clinics.
The effort is part of a public-private partnership between Honeywell, Atrium Health, Tepper Sports & Entertainment and the State of North Carolina, and backed by Gov. Roy Cooper.
Here's a look at what happened behind the scenes.
Patients stay in their vehicles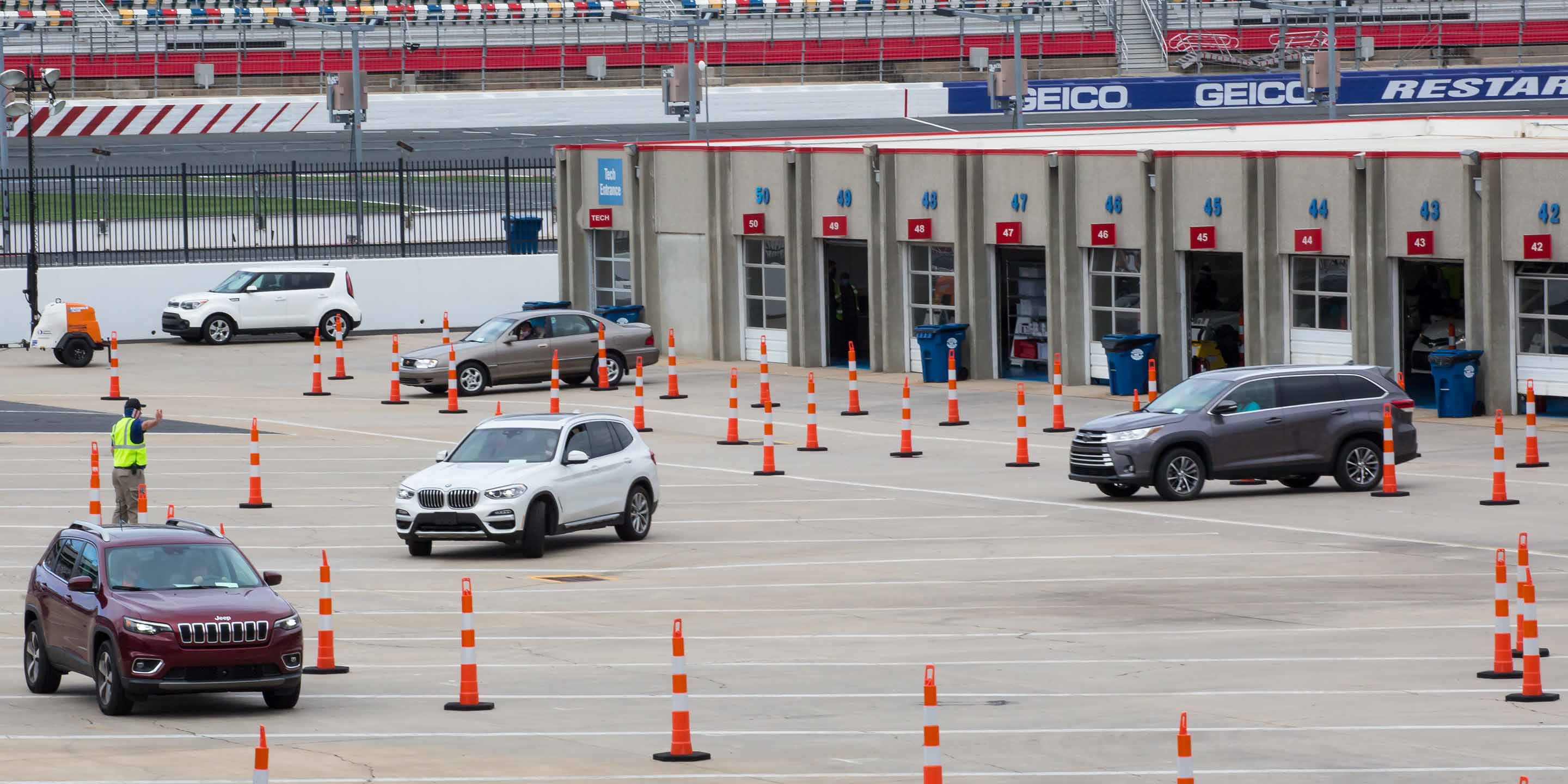 A steady stream of cars entered the Speedway, snaking along the track and throughout the site. Because of the ultra-cold storage requirements and short shelf life, appointments to get a vaccine are required. In North Carolina, currently eligible patients include those 65 and older, frontline health care workers and long-term care staff and residents. Patients checked in and went through health screenings, then headed to the Speedway garage. About a dozen open bays allow two vehicles to pull in back-to-back into each bay. Wearing masks, patients rolled down their windows and answered questions about allergies and other health matters.
Once clear, they got the shot while sitting in their parked cars.
Medical staff prepares doses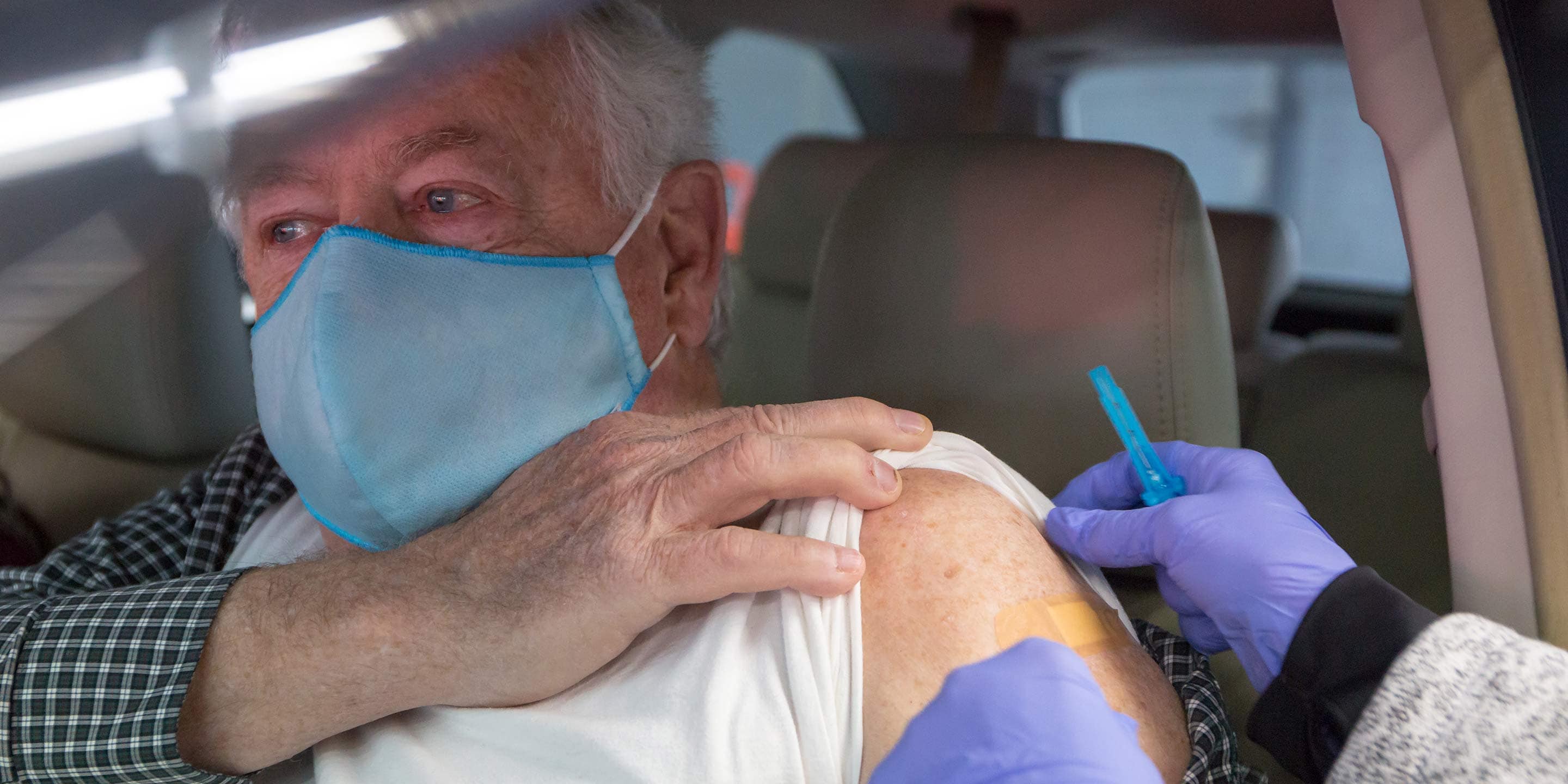 An Atrium Health healthcare worker applies a bandage to Doug Bassinger's arm following his COVID-19 vaccination during a mass vaccination event held at Charlotte Motor Speedway
In a side room in the garage medical staff – wearing masks rubber gloves and other Personal Protective Equipment (PPE) – prepared thousands of syringes by drawing doses from vials that contain the vaccine.

Technology speeds up the process


Each shot station had three team members to assist with delivering the vaccine – a greeter, a vaccinator and a documenter. After the patient answered questions, the documenter entered a patient's information into the medical record system. Part of that process included using a scanner to scan a code denoting in which arm the patient receives the shot. Scanning reduces the time to record information from many seconds, to nearly instantaneous. Shaving time down helped speed up the process and enable faster patient throughput.

Once patients received their shot, they drove over to a parking area where they waited in observation for about 15 minutes. Higher risk patients may wait longer. At the observation area three medical ambulances and two medical golf carts staged nearby in case of emergencies. If patients feel ill, they honk and turn on their hazard lights to alert authorities. After waiting, patients are cleared to leave with plans to return to the Speedway again in three weeks for their second dose.
All photos by Kevin McCarthy, provided by Atrium Health.