|
|
|
You are browsing product catalog for
/content/honeywellbt/us/en/search.html
Students Use STEM Skills to Explore the Future of Fashion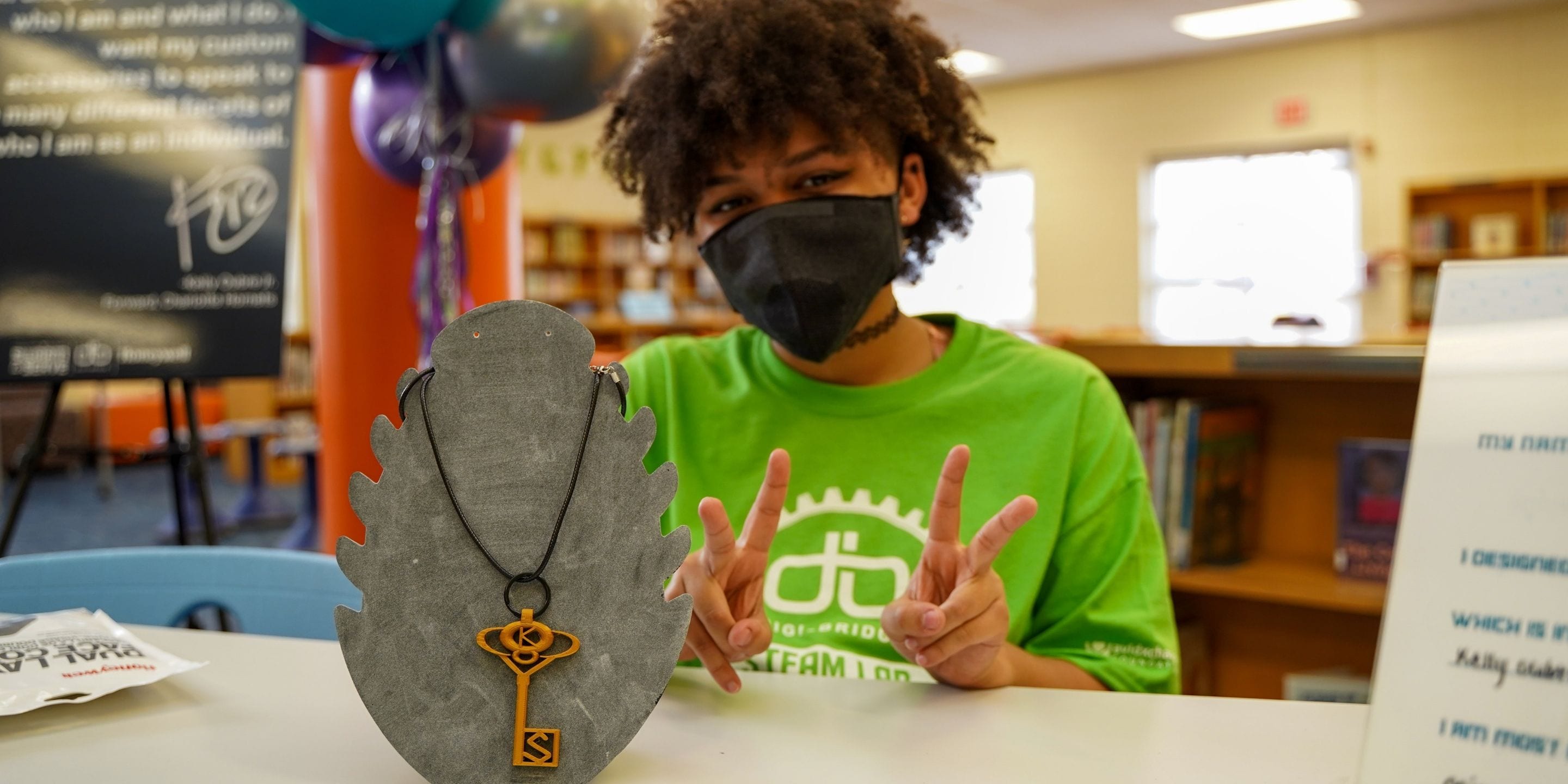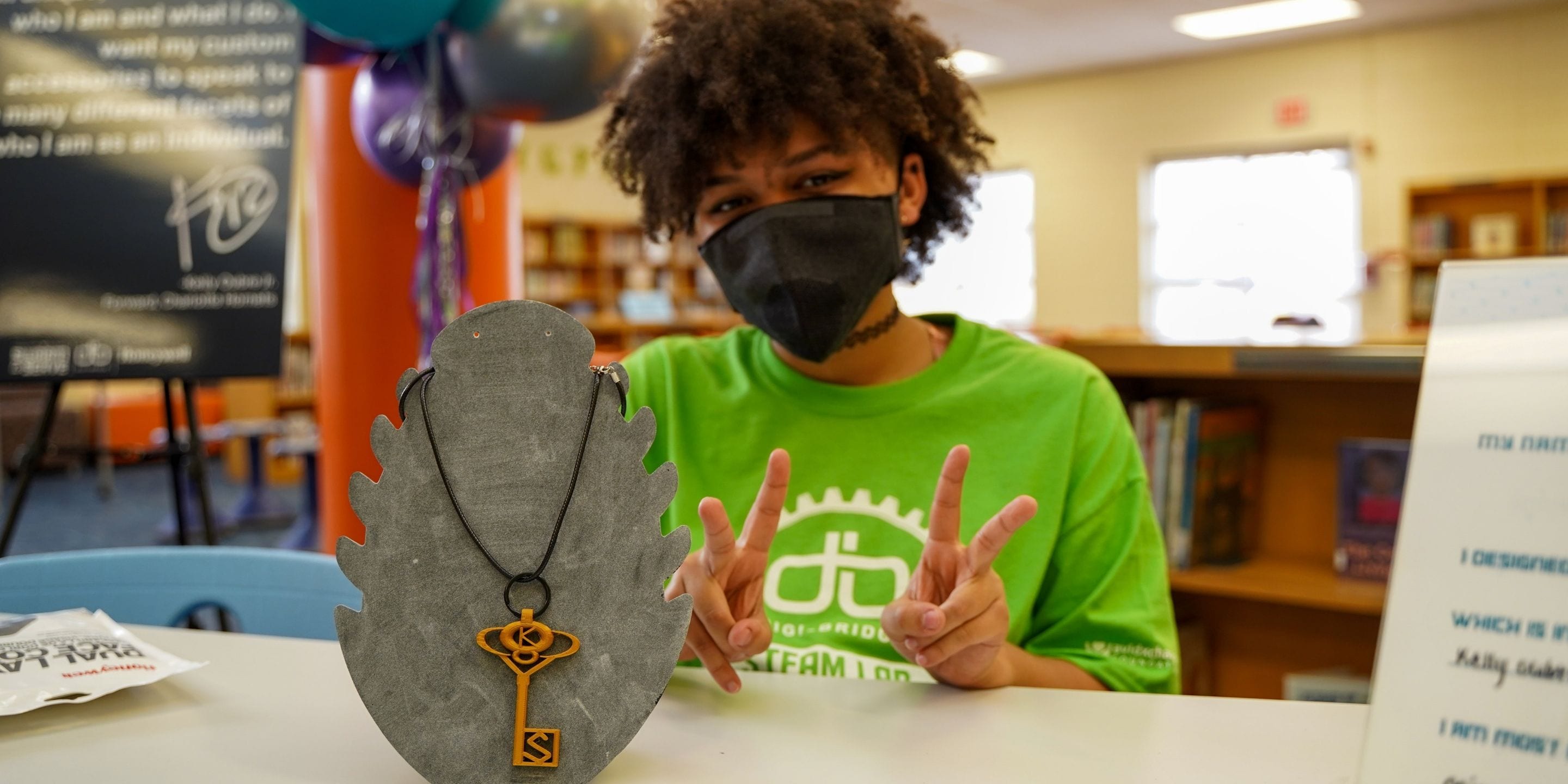 Students Use STEM Skills to Explore the Future of Fashion
These young innovators used technology and tons of creativity to make accessories for a professional basketball player who's passionate about style
Eighth-grader Jaylynn Rhoades used her finger to draw on her tablet, creating a design to bring to life through 3D printing technology.
"I like that I can create whatever I can think of," Rhoades said.
Rhoades and a cohort of her classmates at Governors' Village STEM Academy in Charlotte got to explore 3D printing as they designed accessories intended for Charlotte Hornets player Kelly Oubre Jr. to wear as he enters Spectrum Center for upcoming games.
The project, a partnership between Honeywell, the Charlotte Hornets and the education non-profit Digi-Bridge, got students thinking about how science, technology, engineering and math (STEM) can help power innovative fashion design.
Kelly Oubre Jr. looks at a design made by Governors' Village STEM Academy eighth-grader Samantha Atencio-Hurtado.
Envisioning the Possibilities
First, students got to learn from an expert whose career combines STEM and fashion design: Jana Bacinska, senior user experience design supervisor in our Safety and Productivity Solutions business.
Bacinska, who has a background in fashion and textile design, has designed award-winning personal protective equipment (PPE) – ranging from harnesses to gloves and other garments – intended for workers in industrial settings to wear to stay safe and comfortable while doing their jobs.
"PPE must protect the worker, but we always want to go further. We want the person wearing PPE to feel empowered and be able to work smarter. If they're in PPE that's comfortable, they'll be able to preserve some of their energy for later and enjoy the time when they're not working, too," Bacinska said.
Bacinska added: "The fashion aspect of what I do is really important because when you're not wearing something you feel comfortable in – or that you like, from a style perspective – you feel less encouraged to wear those items. In the safety equipment world, that means you become more vulnerable to an accident."
Students at Governors' Village STEM Academy took notes on Oubre Jr.'s design preferences.
The Drawing Board
Feeling inspired, students then got to meet with Oubre Jr. to brainstorm.
Students asked Oubre Jr., who debuted his own clothing brand, Dope$oul, in 2021, about his style preferences, the types of accessories he likes to wear and his personality.
Working with their technology teacher Torie Leslie, the students turned their ideas into 3D-printed wardrobe items, such as cuff-style bracelets, pendant necklaces and earrings, over the course of just a few weeks.
For some students, this meant exploring skills and technologies that were new to them – and potentially envisioning a career path they may not have otherwise considered.
"I love coding, but I've realized I also like engineering," said sixth-grader Ani'yah Frasier.
Governors' Village STEM Academy sixth-grader Jamil Wilson with a 3D-printed cuff he designed.
Runway Ready
Students then presented their final products to Oubre Jr., who will sport some of the one-of-a-kind wardrobe pieces on future game days.
Sixth-grader Jamil Wilson tried 3D printing for the first time. He designed a solid-colored cuff engraved with the name of Oubre Jr.'s clothing brand.
"I would do this again because it was fun and I got to be creative," Wilson said.
Rhoades, who created a pendant in the shape of a key – engraved with details like initials to represent Oubre Jr. and his fiancé – said she felt so inspired that she made a second design to give to her mentor.
"There are so many ways you can take this," Rhoades said.