|
|
|
You are browsing product catalog for
/content/honeywellbt/us/en/search.html
A #futureshaper Family Legacy 3 Generations in the Making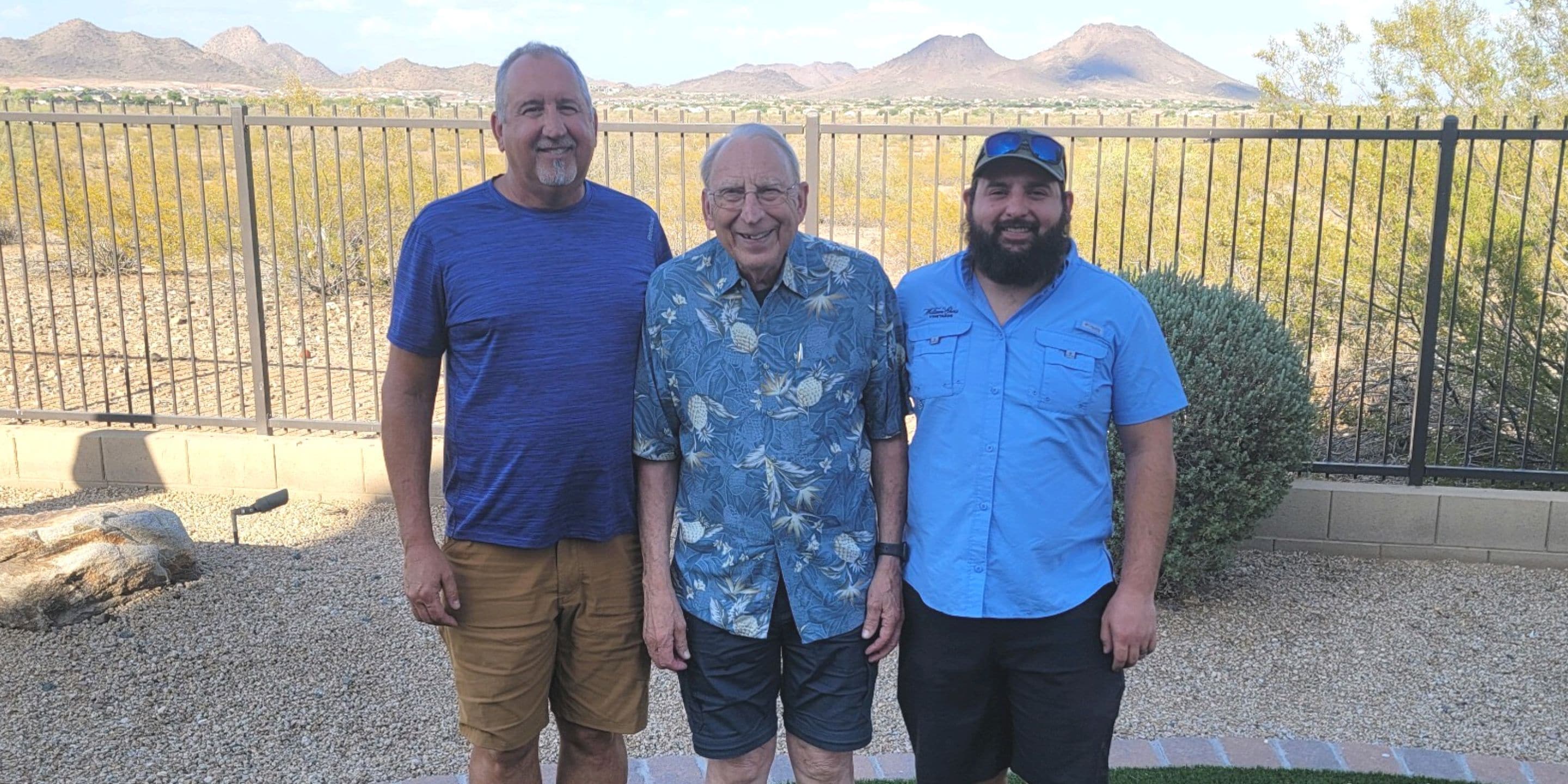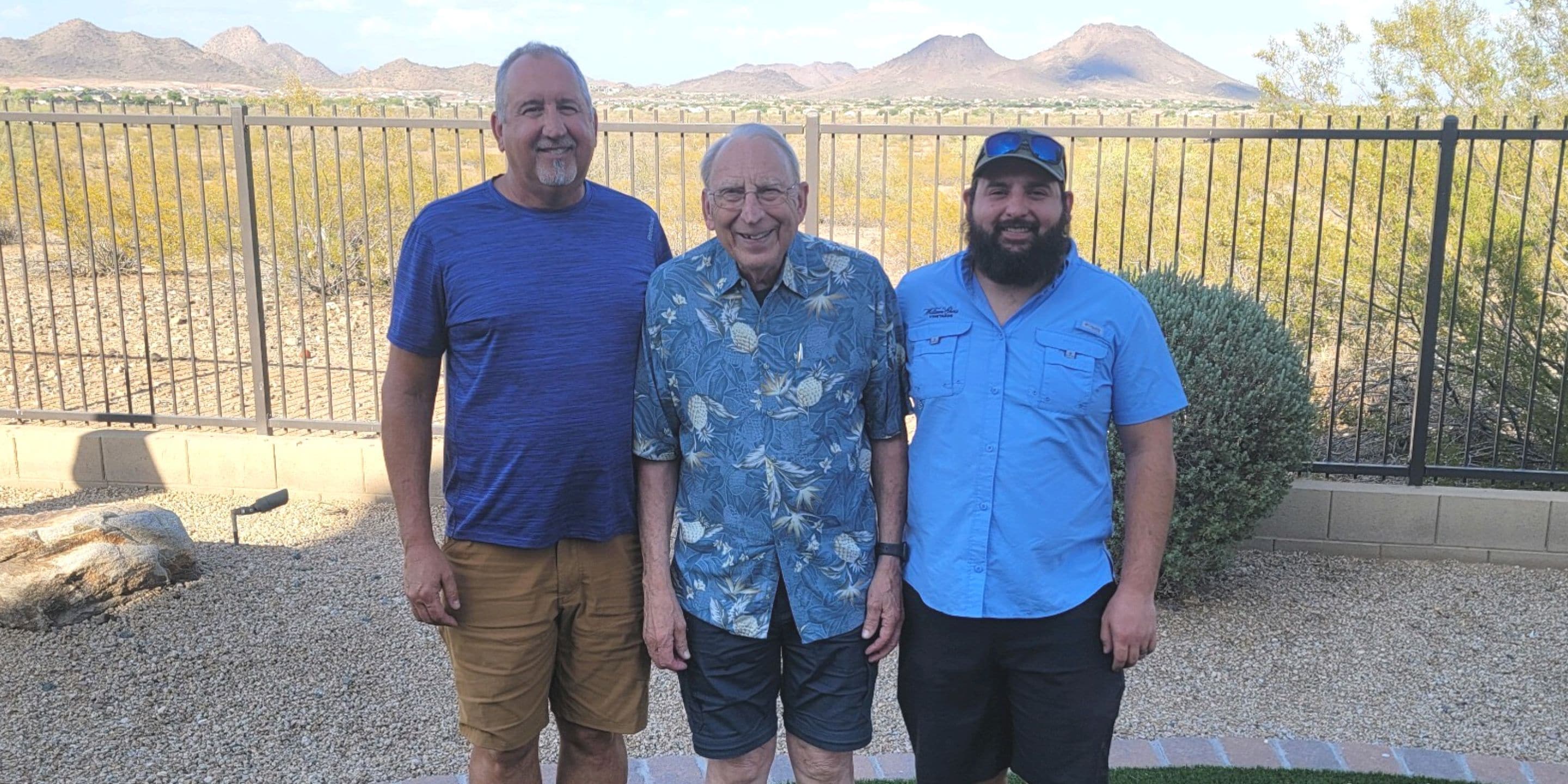 A #futureshaper Family Legacy 3 Generations in the Making
This Father's Day, meet an engineer who's continuing his family's history of innovation.
Growing up, Andrew Eslinger (pictured above; right) was always looking at pictures of the Hubble Space Telescope – and not just because he loved space.
His grandfather, Robert (Bob) Eslinger (middle), was an engineering manager at Honeywell when he helped pilot the Control Moment Gyroscopes that were installed on the Hubble Space Telescope, which was launched into space in 1990. Control Moment Gyroscopes are used to turn and control where the telescope is pointed.
Andrew remembers spending time in his grandfather's home office, which was filled to the brim with aerospace mementos and décor.

Robert (Bob) Eslinger, Andrew's grandfather, in a new hire pamphlet released by Sperry Corporation. Bob joined Sperry Corporation in 1963 and retired 30 years later from Honeywell's aerospace business in 1993.
"My grandfather definitely instilled the curiosity in me. He's told me: 'You can always be what you want to be.' I thought it was a great point, and ultimately, a lot of the ways he talked about things really shaped me in the career I have," Andrew said.
Aviation runs deep in the family – Andrew's father, Greg Eslinger (top; left), had a career at Honeywell as a software engineer, where he was involved with engineering control panel displays for the Boeing 777 aircraft.
Now the third generation in his family to work at Honeywell, Andrew is overseeing the production of solutions that will help future researchers explore deep space – including momentum control systems and vibration isolation systems for a telescope set to launch into space in the next decade. These systems help minimize vibrations and movement, which will allow the telescope to stay still so it can capture precise photographs.
"I was always fascinated with aviation in general, as well as the fact that so little is known about the universe. That's what encouraged me to pursue a college degree in physics," Andrew said.
Even during his workday, Andrew is reminded of his family history. For example, the facility where Andrew works – in Glendale, near Phoenix, Arizona – is special because his grandfather, Bob, was a part of its groundbreaking ceremony in 1985. Then, the facility was owned by Sperry Corporation's aerospace unit, which Honeywell acquired in 1986.
Andrew said he's encountered colleagues who have memories with his grandfather – such as from a job interview or from working together.
"The way I see it, I get to continue the work that's been done in my family. I hold onto that," Andrew said. "I'm sure in 30 or 40 years, others will be building on the work that I get to do now."
"Someday, maybe my future children will get to continue advancing the technology even more."
Check out the story of another third-generation #futureshaper. Plus, meet two team members who reflected on working alongside their moms at Honeywell.