|
|
|
/content/honeywellbt/us/en/search.html
These Engineers Each Have 35+ Patents
These Engineers Each Have 35+ Patents
Get the story behind of what motivates these thinkers, doers and dreamers.
With 18,000 engineers worldwide and more than 35,500 granted or pending patents, we celebrate inventions and inventors every day.
In honor of Engineers Week, meet the people who are making the future possible.
Thea Feyereisen, Senior Fellow


Based: Minneapolis, Minn.
What do you do? I help design the displays that pilots use when they fly airplanes. I help make flying easier, safer and use less fuel.
U.S. patents: 50+
Which is your favorite patent? My favorite patent is my first one, "Interfaces for planning vehicle routes." It helps operators plan routes that make it easier to avoid hazardous or other non-desirable areas along their path. It's my favorite because it is not only my first, and officially fulfilled a childhood dream of becoming an inventor, but it also helped earn Honeywell licensing revenue in the automobile and marine industry.
Hugh Wang, Fellow




Based: Buffalo, NY
What do you do? I am responsible for the development of manufacturing technology for new low global warming potential molecules and the improvement of the productivity of processes to make existing molecules. I also troubleshoot issues for Honeywell's fluorine products manufacturing facilities.
U.S. patents: 90+
Which is your favorite patent? It's hard to pick just one. I am proud of the portfolio of hydrofluoroolefin products manufacturing patents on which I am an inventor. These patents include some of the most cost effective and reliable methods of making Honeywell's 4th generation low global warming molecules useful in heat transfer, foam, propellant, solvent and other applications.
Mark Morris, Engineer Fellow




Based: Phoenix, AZ
What do you do? I support turbine technology planning, research, development and process improvements to keep Honeywell competitive in the gas turbine business. (Pictured above in 1998 when first patent was issued.)
U.S. patents: 65+
Which is your favorite patent? "Gas turbine cooled shroud assembly with hot gas ingestion suppression." The invention utilizes a combination of advanced fluid mechanics, heat transfer, thermal stress management and sealing technology to eliminate costly distress seen in the TFE731-60 high pressure turbine shroud assembly. It is always exciting to me to get the opportunity to use technology advances to make our products better.
Arun Mahasenan, Principal Engineer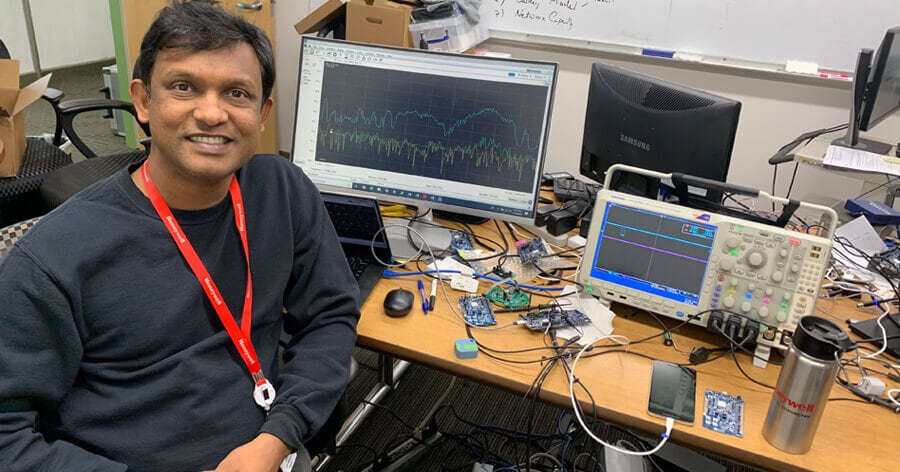 Based: Golden Valley, Minn.
What do you do? My group works on developing new technologies that provide greater comfort, safety, security and energy efficiency to building occupants. I do research and development of wireless communication technologies for sensing and control applications.
U.S. patents: 35+
Which is your favorite patent? In 2006 we figured out how to enable robust, reliable and real-time wireless communication of sensors that use batteries. This sensor network can enable monitoring and control of mission-critical applications. We came up with a novel approach to time-synchronize nodes in multiple wireless network clusters. We were one of the first ones in the industry to commercially deploy such a system in process plants, which today is deployed in many process plants across the world.
Paul Wacker, Senior Engineering Fellow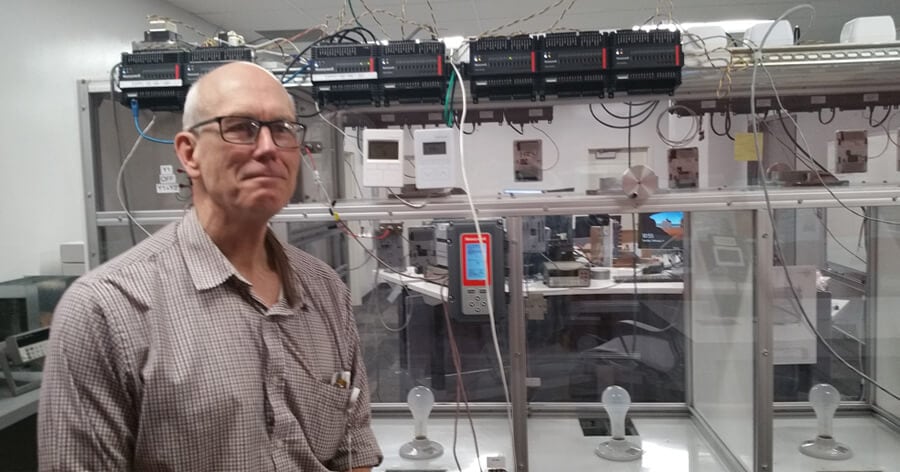 Based: Golden Valley, Minn.
What do you do? I help design products that control a building's environment, keeping occupants comfortable while conserving energy.
U.S. patents: 40+
Which is your favorite? "Low cost programmable HVAC controller having limited memory resources." This is a design for an efficient method of implementing a deterministic "control engine" in the embedded software of a low-cost microcontroller. A control engine allows for application developers to create custom control sequences using a graphical user interface, (no computer programming required).
Copyright © 2023 Honeywell International Inc.
Your Privacy Choices